Back To Our Services
Should your HVAC unit start acting up, a small problem can quickly escalate into a major issue. For this reason, you should always address every malfunction as quickly as possible. Our local team, using a thorough checklist, will identify the root cause and make timely repairs, as needed. What's more, our technicians will check your entire system to catch any other problems as early as possible.
Address, Identify, Locate And Repair
Our team of technicians will perform a detailed and thorough troubleshooting checklist until the root cause is identified. The culprits will be not only be dealt with but the whole system will also be checked to make sure that nothing else is likely to go wrong.
High Speed And High Standards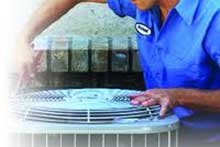 Should your HVAC unit be in need of repair, you'll want it done in as short a time as possible. However, this shouldn't mean cutting corners or making do with a quick fix. Air Duct Cleaning Sunnyvale will carry out repairs and/or replace components speedily and to the very highest standard. Using only quality parts, our experienced technicians are used to dealing with all types of issues and are fully qualified to come up with a solution to all your unit problems.
Efficient And Cost Effective
Energy efficiency and a high standard of air quality go hand in hand, and it's important to take care of your unit. What's more, regular HVAC unit cleaning and maintenance checks are vital in order to run cost-effectively. A unit in tip-top working order will have less work to do, which results in a system that works efficiently, for longer. This is why it makes perfect economical sense to contact our professionals.
Give Us A Call
The technicians at Air Duct Cleaning Sunnyvale, CA are your local experts when it comes to HVAC unit cleaning, maintenance, and repair. So why not give us a call today and find out what our team can do for you?
Back To Our Services